Product
Fysiko
Idol Lash
Envyderm
Our Rating
Overview
This is one of the most positively recommended eyelash growth serums to be found anywhere online. It is a powerful serum that can double the length and volume of your lashes in as little as 4 weeks. It is considered the most effective product on the market right now. We would have given this a 100/100 if it wasn't for the high price tag, that said we believe it is worth it.
Idol Lash is an eyelash enhancer that aims to promote longer, thicker, darker and fuller lashes. It is by far the most affordable option on the market and they offer a free trial.
Envyderm offers a popular conditioning nighttime serum that guarantees long lush lashes and increase in length. The serum promotes the natural keratin production in the lash line to help guarantee better follicle growth.
Key Ingredients
Panthenol (Vitamin B5), grape seed extract, ginseng roost extract, proline, chamomile extract, olive oil, thyme extract and glycerin.
Kelp, honey extract, nettle, chamomile extract and alfalfa extract.
Myristoyl pentapeptide, hydrolyzed keratin, panthenol, alfalfa extract, allantoin, argan oil, jojoba oil, kelp extract and sodium hyaluronate.
Expected Results
Results can often be seen as early as 4 weeks or as late as 8 weeks. Length and thickness frequently double within this period.
Idol Lash can increase eyelash density by up to 82% and length by 25%. The manufacturer suggests that you can expect to see results in as little as 28 days, however many independent consumer reviews suggest an even longer period of more than 6 weeks.
The thickness of the lashes can increase by as much as 72% and length by up to 25%. It is recommended that buyers use the product for at at least 6 weeks before results will be visible.
Time Before Results
4-8 weeks
6 weeks +
6 weeks +
Price

$$$
View Best Price

$
View Best Price

$$
View Best Price

Additional Information
Is recommended for those growing out their eyelash extensions. They are advised to start using the serum at least 8 weeks before the extensions are taken out to help strengthen and thicken the natural hairs, greatly reducing the fallout rate. Can also be used on thinned eyebrows.
It has been touted as an ideal option for those with sensitive eyes.
This serum can also be used to help improve on the thickness and length of eyebrows. The manufacturer also produces mascara that includes some of the same ingredients that are in the eyelash enhancement serum.
Official Website
Eyelash Growth Serums and Enhancement Products and Techniques
The eyes are called the windows to the soul and are the focal point of the face so it's no surprise that eyelash growth serums are becoming so popular. How we judge the appearance and age of a person will often relate to what we see when we focus on this aspect of facial features. Eyelashes play a prominent role in bringing out the youth and beauty of the eyes and face. It is no coincidence that we often consider those with few or thinned lashes as older or unwell. When you have long thick lashes, it gives of the appearance of vitality.
Unfortunately, there are many instances where even the fairly young look older because they lose lashes or are naturally inclined to having thinned hair. For women the appearance of the eyes is of critical importance, enhance the desire to make use of eye enhancement techniques. Besides trying out a variety of ways that will help make lashes look longer and thicker, they will often use makeup like eyeliner and eye shadow to add color and draw more attention to this area.
Getting the desired results that will enhance the appearance of the eyes with eyeliner and eye shadow is simple enough. Trying to make lashes that are thin and short look longer, fuller and thicker is however more complicated. There are several ways in which women seek to enhance the appearance of their eyelashes, with each option offering its own set of pros and cons. We will first look at the various options available, and why eyelash growth serums make for great support of these efforts.
Overview Of Eyelash Enhancement Techniques
There are several different ways in which a person can enhance their lashes. The goal is usually to make the lashes seem fuller, thicker and longer. Some solutions will help achieve one or more of these goals. Here we will look at the most common solutions in eyelash enhancement that are available, and what you should consider before making a choice on what to try. Most women will at some point experiment with each of these options in order to try to identify the solution that works best for them.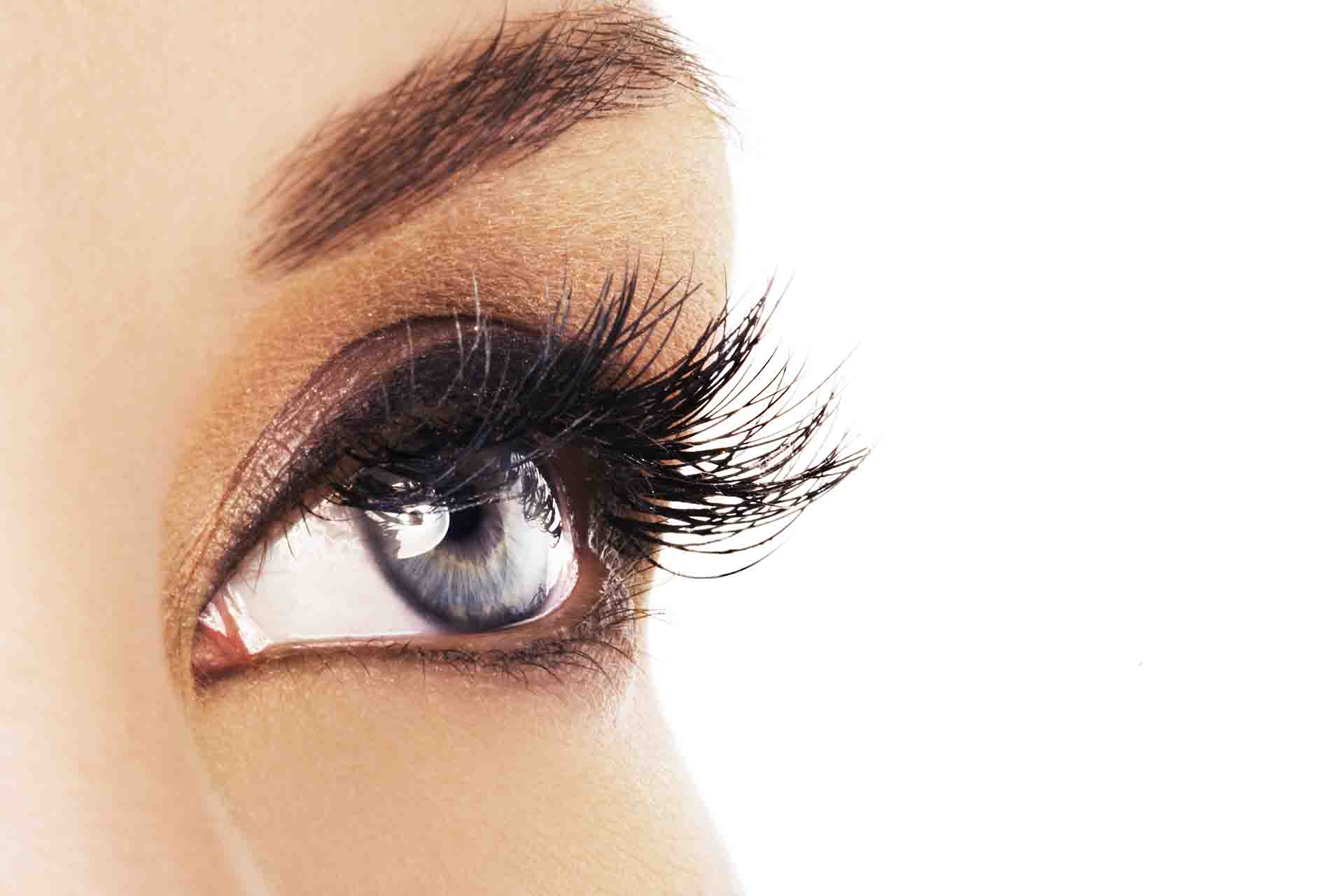 Benefits Of Using Eyelash Growth Serums
Eyelash growth serums seek to help people grow out their lashes to a longer length and thicker shaft. It is fairly common for women to lose hair around the eyes, especially if they have been sick, are older or had to deal with stress. Loss of hair can also occur with cosmetic procedures like having eyelash extensions bonded to natural lashes.
Eyelash growth serums work to provide certain nutrients and chemicals to the lashes that can help speed up their growth and improve on their length and thickness. This means being able to grow out natural lashes that are thicker and longer, and may not require further enhancement through use of mascara or extensions.
There are several key reasons why using an eyelash growth serums is the best option when it comes to eyelash enhancement.
When using eyelash growth serums that place an emphasis on natural ingredients, you are safeguarding your health and that of your lashes. This means less risk of damage to hair follicle and the surrounding skin. Other options such as using curlers and extensions, means risking damage that can lead to bacterial infections.
They are easy to apply. Commercially available eyelash growth serums typically come in tubes with easy to use applicators. You can easily brush on the serum to your lashes without any risk of damaging the hairs or surrounding skin. Using curlers and inserting fake lashes is a tad more complicated.
They work. A review of many top beauty consumer and expert blogs and sites is enough evidence that these products work as promised. There are naturally some that are ineffective, but there are others that consistently get top reviews because they deliver on the promised results. Many sites have detailed reviews that include before and after photos, which can be useful in identifying an eyelash growth serums that will work best for you.
There is great variety. Besides the fact that there are many brands to choose from, you will also find that you get to choose between natural and artificial serums. Natural serums offer concentrated amounts of natural ingredients, while artificial serums include laboratory made chemicals. Artificial choices can sometimes offer faster results, but you do run the risk of some allergic reaction in the hair or surrounding skin. Natural serums are a better options because they safer to use.
They shorten regrowth cycles. Just as with any other body hair, lashes will reach a maximum length and fall out. It can take some time before a new hair grows out of the follicle. Using a quality eyelash growth serum can help to minimize this cycle and maximize on the number of lashes that appear at the same time. With more lashes, your eyes will look even more attractive.
They work with makeup. For many the use of growth serums will not be enough and sometimes it can take awhile for the results to appear. This means still having to make use of mascara. Many people who use these serums report that not only does the mascara go on smoother, some options actually double as clear mascara.
Some options contain anti-aging ingredients. Some serums contain anti-aging ingredients that are not only great for strengthening hair follicles, but also work on the surrounding skin to tighten and reduce the appearance of crow's feet.
They are affordable. There is such a wide product range when it comes to eyelash growth serums that no matter what your budget is, you can find a quality product to invest in. Many of the top rated eyelash growth serums can be bought at a price anywhere between under $10 to over $100. You will likely find a broader range of deals when you buy online and in bulk, than if you visit your local drug store. Some products are also available on prescription and may be covered by your insurance.
Tips for using eyelash growth serums
Know the ingredients to the serum you are buying and what they do. Different serums have different formulas but the most reputable will freely provide details of their ingredients. Take time to look into what you are applying onto your lashes and whether there is really any benefit involved. Commonly included ingredients in top selling eyelash growth serums include silica, panthenol and peptides. If you come across and ingredient you have not heard of before, a simple online search should offer you the answer you need.
You can find great deals online. Many serums can be easily found on the shelves of drug and cosmetics stores, but the prices are typically higher than if you opt to make the purchase online. Seek out the best prices online and you may even find impressive discounts on bulk purchases. It is however advisable to make the first purchase a single order so you can test to see if there is any unexpected reaction that makes the product unsuitable for you.
Always follow the manufacturer guidelines. Some serums can be worn daily underneath makeup, while other are recommended for application at night. Take time to study the guidelines for use provide in the pack and always adhere to them. A common mistake many make is failing to wait for the serum to dry before they go to sleep or put on makeup. Be consistent in your efforts so you can see results on the timeline advertised.
Precautions when using eyelash growth serums
These serums can be very effective, but require you to be cautious in making choices. While there are a wide variety of options in the market, it is important to stick to reputable brands and not go for the cheapest option you can find. The benefit here is that a top rated brand will have a record of accomplishment that speaks to its effectiveness and safety. They will also more easily provide details as to their ingredients that lesser reputable options. Here we will review three of the most widely popular and top rated eyelash growth serums in the market, so you can know what to expect and why you should try them out.
HOW/WHY WE CHOSE OUR TOP THREE PRODUCT PICKS
One of the reasons we have chosen to focus on Fysiko, Idol Lash and Envyderm is that these products have no reported side effects as of yet and have very good ratings on review sites. The manufacturers have also clinically tested the products and offer plenty of information on the ingredients used in their formulas. As you opt to try out these products, be sure to adhere to the following eyelash care tips that will help promote the work of the serums and guarantee you beautiful natural lash growth.
Avoid sleeping on your stomach. Sleeping facedown creates more friction between your lashes and the pillow, offering more opportunities for breakage. Try to adapt to sleeping on your back for the best results.
Avoid rubbing your eyes. there are times when we feel the need to rub on the yes but this not only causes eyelashes to break, but can also cause others to pull out from the root. If you have a recurring irritation around the eyes, you may want to see your doctor to find out the cause.
Avoid waterproof mascara. This type of makeup has a very drying effect that makes the hairs brittle and therefore easily broken.
Always remove mascara before you go to bed. Mascara stiffens the hair shaft and prolonging this effect is dangerous to the lashes. If you happen to turn your head into the pillow, you will likely break several lashes.
Make use of gentle makeup removers and pat or dab them onto the lids and shaft rather than rubbing.
Comb out lashes when the mascara is wet to avoid pulling out hairs.
Be careful when using eyelash curlers so as to avoid tugging out hairs.
Do not sleep in false eyelashes and be careful when applying the glue to avoid irritating the skin.
Have a moisturizing and conditioning regimen. Even if you do not use an eyelash growth serum or special eyelash conditioners, you can still accomplish this with many household products like Vaseline or coconut oil.