Idol Lash

Our Rating
Overview
Idol Lash is an eyelash enhancer that aims to promote longer, thicker, darker and fuller lashes. It is by far the most affordable option on the market and they offer a free trial.
Key Ingredients
Kelp, honey extract, nettle, chamomile extract and alfalfa extract.
Expected Results
Idol Lash can increase eyelash density by up to 82% and length by 25%. The manufacturer suggests that you can expect to see results in as little as 28 days, however many independent consumer reviews suggest an even longer period of more than 6 weeks.
Time Before Results
6 weeks +
Price
$


View Best Price

Additional Information
It has been touted as an ideal option for those with sensitive eyes.
Official Website
Idol Lash is our #2 pick for eyelash growth serums. Our eyes are said to be the windows to the soul. It comes as no surprise therefore that both men and women like to ensure that this particular facial feature stands out for all the right reasons. Our peepers are not just how we look out of ourselves and into the world, but also a major focal point that can affect how people judge our appearance. the more presentable and attractive they are the better. Eyelashes and eyebrows help to frame this aspect of our appearance, and when they suffer, so does our overall appeal.
Women in particular tend to suffer confidence issues when they find that their eyelashes and eyebrows are losing hair or are only growing to very short lengths before falling out. Most will resort to cosmetic interventions like eyeliner, eye pencil, eye shadow and mascara. This is mainly because of how simple these products are to use, their affordability and easy access. You can often find such cosmetics at supermarkets, drug stores and cosmetic shops. Most women will carry some of these items in their handbags and will use them to freshen up their makeup when away from home for a long period.
Others may undertake more drastic measures, such as undergoing eyelash extension attachment. This kind of procedure is not only quite expensive, it is also risky given the use of sharp instruments, and the pressure that will be exerted on the natural lashes by the extensions being attached using special glues. With time the natural lashes will fall out with the extensions attached and the person will have to go back to the salon for a fill every few weeks. Both the use of cosmetics, and eyelash extensions are temporary measures.
The use of commercially sold eyelash growth serums however is a more recent innovation that is offering a more permanent and natural solution to the problem of eyelash loss. There are many serums on the market, but here we will focus on the Idol Lash brand that has gained a strong following and produces an eyelash enhancer that has earned many positive reviews.Why try Idol Lash Eyelash Enhancer?
Just as the product name suggests, Idol Lash Eyelash Enhancer is a cosmetic product designed to help improve the appearance and growth of natural lashes. This enhancer has been clinically proven to increase the density of lashes by up to 82% and the length by 25% within just 2-4 weeks of use. This product is popular mainly thanks to the quick results it offers, as compared to other options in the market. Customer data confirms that Idol Lash results include visible growth and increased keratin genes.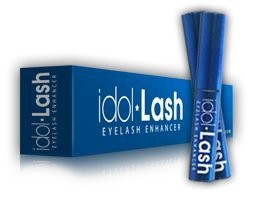 The clinical trials were conducted by an independent third party, which means the manufacturer had no influence over the results. This kind of trial helps add legitimacy to the claim of effectiveness by the manufacturer.
The product is also considered one of the most affordable choices of eyelash enhancers in the market. Many women spend hundreds of dollars on makeup every month, and even more for eyelash extensions and their subsequent touch-ups. Not only are these options for enhancement expensive, they are also time consuming. With Idol Lash Eyelash Enhancer, you get a single pack at well under $50. This price is well below the industry average and makes it an easily accessible product for most consumers. Currently it is only available online, but they accept multiple forms of payment. The manufacturer also regularly offers discounts and other amazing deals to new and repeat buyers that make this online purchase option well worth your time.
One of the reasons that Idol Lash has not yet begun offering this product in stores is the desire to protect their proprietary formula. Although the ingredients are all natural , the combination is a well-kept secret that can easily be discovered by large stores that decide to do some lab work on the original product and produce generic versions. In many ways, Idol Lash is not only protecting its brand, but also consumers from unscrupulous sellers who may try to sell them imitations that are nowhere near as effective as Idol Lash. Because the products are made in the USA, consumers can also be assured of the strict manufacturing process that is used and monitored.
The product is also very easy to use. It takes just a few minutes to apply on clean dry eyelashes. You simply need to sweep the applicator with product on the tip across the base of your eyelashes on both lids. You should use the product sparingly as it is quite potent. This also means that even with daily use you can enjoy several months of use just out of a single tube. You can use some of the product to also enhance your eyebrows. It is just as effective on restoring thinning eyebrows that will match your new growth of lashes.
The formula used in its preparation is also safe for use amongst those with sensitive eyes. This is a big help to the many consumers who have tried and failed to gain benefit from other eyelash enhancers because of allergic reactions and side effects. Idol Lash Eyelash Enhancer uses the purest and least irritating eyelash stimulating and conditioning products available in the market. It has been promoted as a pain free form of eyelash enhancement because of this ability to be used by those with sensitive eyes. It has been proven suitable for use amongst people of all ages with all kinds of skin types.
Some of the natural ingredients, that are part of the reason for the products popularity amongst those with sensitivity issues, include honey, kelp, polypeptides, chamomile extract and nettle extract. Each one of these ingredients contributes in some way towards stimulating new healthier growth of lashes on the eyelid.
While some people may be doubtful of a product they have not heard of, or do not know anyone personally that has used it, there is the benefit of the money back guarantee. Because of the impressive deals that the manufacturer offers through their website, many people end up ordering enough eyelash enhancer to last them well over a year. For those with doubts as to the effectiveness of the serum, the manufacturer has offered the incentive of a 90-day money back guarantee on any unused product. Because results are promised for healthy users within 2-4 weeks, this means you have almost 3 months to test out their assertions. If the product does not work for you, you can get your money back. There is also insurance offered on shipped products so you can be compensated if the package does not arrive in good condition.
Finally, when buying a product you will obviously want to know that it has worked for others. A simple online search will quickly bring you a click away from tons of consumer reviews posted on all manner of forums. Many of the reviews feature pictures and video of before and after results achieved through use of Idol Lash Eyelash Enhancer. This is a pretty conclusive way of determining if the product is effective or not.
In summary, the key benefits associated with choosing to try Idol Lash include:
Longer, thicker and stronger eyelashes within jut 2-4 weeks of correct use
Clinically tested by an independent lab
Easily affordable and long lasting
Proprietary formula with no imitations
Made in the USA
Easy to apply
Works on eyebrows too
Suitable for sensitive eyes
All natural ingredients
90 day money back guarantee
Insured shipping
Consistently positive consumer reviews
Many people assume that simply because they have bought an eyelash enhancement product, that there is no other effort they need to apply in order to gain the promised results. There are however certain habits that beauty experts recommend that can go a long way in promoting the efficacy of these products and guarantee you results in as short a time as possible.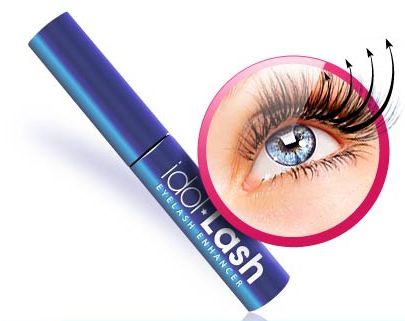 ---
Brush out your lashes twice daily. In the same way you brush your hair in the evening and morning, you should form the habit of doing the same with your lashes. Brushing out lashes helps to stimulate hair follicles, encouraging faster growth. It also helps to straighten out lashes, making for a more presentable appearance.
Trim your lashes. As your lashes grow out, there is a possibility some hairs will be much longer than others. Evening them out with a little trim not only improves your appearance, but also helps to stimulate further growth.
Always remove makeup at the end of the day. You should never go to sleep with makeup on. Mascara and eyeliner in particular, will dry out your lashes and make them brittle. If you happen to lie face down, you may end up breaking many of the hairs. Make use of mild makeup remover by soaking a cotton pad in it and pressing it onto the eyes to help moisten the makeup, making it easier to take off. Dab or pat gently, do not rub when removing makeup.
Keep your eyes clean. With time, dust, tears dead skin cells and other debris will accumulate along the eyelid. This dirt can clog up hair follicles and block the passage of new growth trying to emerge. It helps to wash your face gently twice a day and remove this hindrance.
Maintain a healthy lifestyle. This includes eating a balanced diet, drinking plenty of water and exercising. While proteins and vitamins tend to be the most relevant in encouraging healthy hair growth, you still need a balanced diet to maintain overall health. If you suffer a deficiency or fall sick, you put yourself at risk of suffering further hair loss. Exercise will boost your circulation, while water will help with hydration of skin cells.
Use homemade eyelash enhancing serums. It is recommended that you only make use of Idol Lash Eyelash Enhancer once a day, before bedtime. It is a good idea to make use of other home remedies like castor oil, coconut oil, Vaseline or lemon infused olive oil on your lashes. These household items help to moisturize and condition the hair.
---
Be patient. Idol Lash growth serum is said to produce results within 2-4 weeks after the start of use. If you do not notice visible results by the 2-week mark, do not panic. Simply continue using the product as prescribed and give it time to work. After all, you have a lengthy money back guarantee period to work with.
For more information on Idol Lash see our Idol Lash Frequently Asked Questions page.